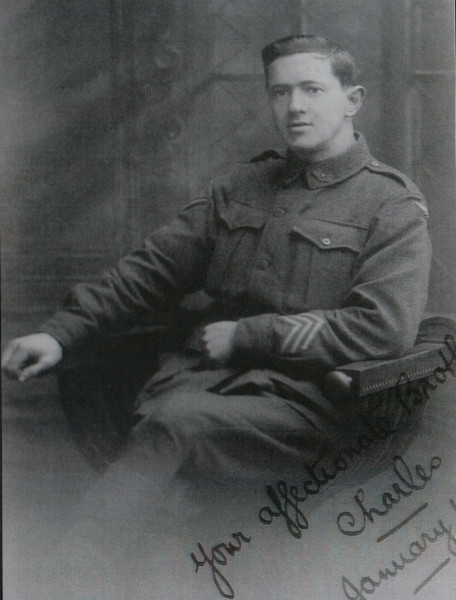 click to enlarge
Courtesy of
Alan West
Son of
Charles West MM
Charles was born at St Arnaud, VIC in 1896 to Francis Harbottle Crook - whose father was James Elijah Crook(5) - and Hannah Eliza McCausland. Charles had three brothers, Francis, Cecil and James, who are also remembered in the Avenue.
Charles was a bank clerk with the National Bank of Australia and gave his address as the Manor House, Bacchus Marsh, VIC when he enlisted in the AIF, 1st Reinforcements, 4th Light Horse Regiment on the 15th of September 1914 at Maffra, VIC, aged 18. He had previously served two years in the Senior Cadets. Charles embarked aboard the HMAT A43 Barunga in December.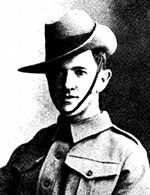 click to enlarge
Courtesy of
National Library of Australia.
Record of war service
of bank and staff 1914-1919
National Bank of Australasia Limited.
http://nla.gov.au/nla.aus-vn4759636
Charles disembarked in Egypt early in 1915 and spent some time in hospital with adenitis (cervical) in April before embarking for Gallipoli in late July. In August he was admitted to hospital with diarrhoea and then evacuated back to Lemnos, Greece then England - dysentery. Whilst at the Convalescent Home(6), Woodcote Park, Epsom, Surrey in December he saw one of the Zeppelin raids(4). Discharged from hospital in March 1916 he rejoined his unit in Egypt in May but shortly after embarked from Alexandria - disembarking at Marseilles, France in the middle of June.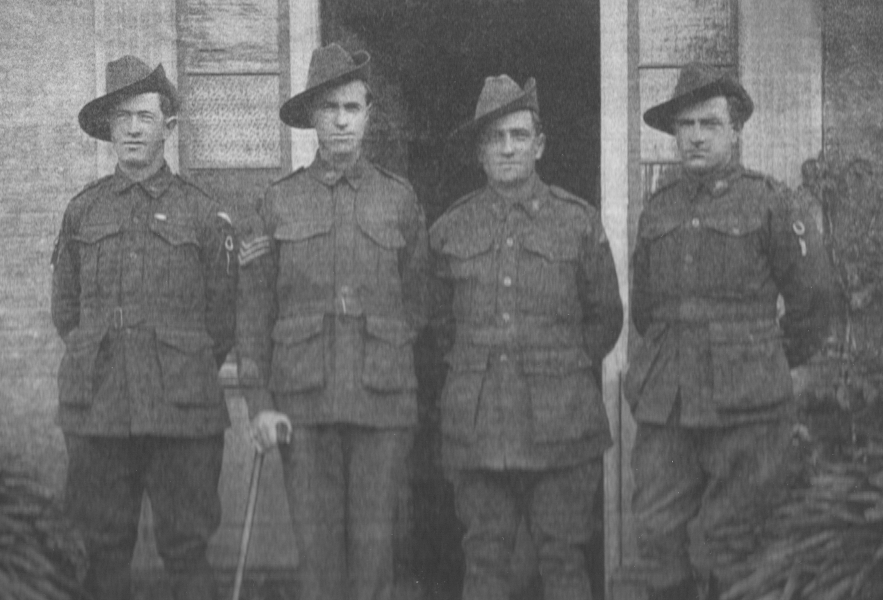 In July 1916 he was transferred to the 2nd ANZAC Mounted Regiment. In September Charles was detached for duty with the CRE, Armentieres, France, for two months. In January 1918 he was granted two weeks leave in England - during which time he married Edith Barnes. He then rejoined his unit in France. In September he was detached to the 4th British Division and a month later he marched out for return to Australia. However he was granted 75 days leave in lieu of returning to Australia and embarked aboard the Osterley in January 1919 - with his wife. Charles returned to Australia in late February and was discharged from the AIF in April.
Charles Crook died at Cobden, VIC, in 1973, aged 76.
He is listed on the Shire of Bacchus Marsh Roll of Honour, the Bacchus Marsh Roll of Honor, the Bacchus Marsh & District Roll of Honour and the Bacchus Marsh Holy Trinity Church Roll of Honour.
Notes
Tree Position (accuracy ±1 tree) -37.67970892422599, 144.4558301644156