Air Mechanic William Annesley Campbell
Unit:
Australian Flying Corps, No. 1 Squadron

William Campbell was born at Bowenvale, VIC, in 1892, to Henry George Campbell and Esther Vennell. William had two brothers, Gordon and Henry, who are also remembered in the Avenue.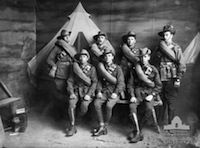 click to enlarge
William is front - right
courtesy of the
AWM
William was living in Bacchus Marsh, VIC and working as a Telephone Mechanic, when he enlisted in the AIF, Australian Flying Corps, No. 1 Squadron, Wagon Section, 1st Reinforcements, as a Driver, on the 3rd of May 1916, at the age of 20. William embarked at Melbourne, aboard the RMS Morea, at the end of May.

In June 1916 he embarked at Bombay, disembarking at Basra in July. In October he was hospitalised for three weeks, suffering from crushed toes. In May 1917 he was in Baghdad and at the end of August he was in Suez, still as a Driver. He was attached for duty with the Australian Mounted Divisional Train for two months at the end of November, before returning to the Australian Flying Corps No. 1 Squadron in the middle of January 1918 and rated Aircraft Mechanic 2nd Class.
In March 1919, William embarked for Australia aboard the Port Sydney, arriving home in April and was discharged from the AIF in June 1919. William Campbell died at Malvern, VIC, in 1964, aged 72.
He is listed on the Shire of Bacchus Marsh Roll of Honour, the Bacchus Marsh & District Roll of Honour and the Roll of Honour of St. Andrew's Presbyterian Church.
Location of Tree Number S042
Tree Position (accuracy ±1 tree) -37.678296727660545, 144.45312555602484
Learn how find this tree in Google Maps and get directions

Copy the latitude and longitude located just below the map.

There is now a button to copy the coordinates to the clipboard!
Open Google Maps.
Locate yourself on the map - not required on a moblie device.

There is a search box in the top left corner.

Paste the latitude and longitude into the search box press return.

Press the directions button.

Related Links
Last updated by lee, Mon, 03 May 2021 18:40:43