Richard was born at Tooradin, VIC in November 1898 to James Smith and Jane Craig. Richard married Jean Kathleen Leakes in England in late 1917 or early 1918. Richard had a brother, Ernest, who is also remembered in the Avenue.
Richard was a labourer and gave his address as Rowsley, VIC when he first enlisted in the AIF, 4th Reinforcements, 5th Battalion on the the 27th of November 1914 - two days short of his 16th birthday. He was discharged, medically unfit on the 1st of March 1915 but again enlisted, successfully, with the 24th Battalion, D Company on the 25th of March. Richard embarked aboard the HMAT A14 Euripides in May, disembarking in Egypt some time later.
While training in Egypt Richard was admitted to hospital for a few days with influenza. On the 4th of September the 24th Battalion landed at Gallipoli and spent the next 16 weeks sharing duty in the Lone Pine trenches with the 23rd Battalion. In December Richard suffered a gunshot wound to the right foot and was evacuated back to Egypt and admitted to the 21st General Hospital and later transferred to a Convalescent Depot until late January 1916. Before embarking from Egypt Richard was late for afternoon parade and confined to barracks for 7 days.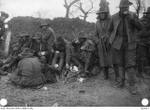 Richard disembarked at Marseilles, France in March 1916. The 24th Battalion participated in the Battle of Pozieres in late July 1916 so he was probably involved. In January 1917 he was AWL for 9 days and forfeited 38 days pay. Richard spent a month in hospital suffering from scabies in February before he was promoted to Lance Corporal in late April and by July he was a Sergeant. He was detached for duty with the 6th Training Battalion, Rollestone, England in October. Richard was AWL for 5 days in March 1918 but a court martial found him not guilty and he was given a severe reprimand before proceeding overseas to France. Shortly after disembarking he was admitted to hospital for almost two month, not rejoining the 24th Battalion until late June. In early September Richard was again wounded in action and evacuated back to England and admitted to hospital suffering from a gunshot wound to the left foot causing fractured toes. Richard embarked for home aboard the Suevic in November, returning to Australia in January 1919 and was discharged from the AIF in late February.
In October 1939 Richard enlisted in the Australian Army - V81008 - and was discharged from the 12th Garrison Battalion as a Sergeant in February 1940. He re-enlisted in June - V84417 - and was discharged from the 2nd Reinforcements Reception Depot as a Warrant Officer Class 2 in April 1944.
Richard died at Frankston, VIC in 1961, aged 63.
He is listed on the Shire of Bacchus Marsh Roll of Honour and the Bacchus Marsh & District Roll of Honour.
Notes
Tree Position (accuracy ±1 tree) -37.68811643514868, 144.47119701866953