Private John Henderson Campbell
Planted by:
Miss Jessie Campbell
(Sister)

John Campbell was born at Bacchus Marsh, VIC, in 1895, to John Hart Campbell and Ellen Henderson. John had a brother, Archibald, who is also remembered in the Avenue.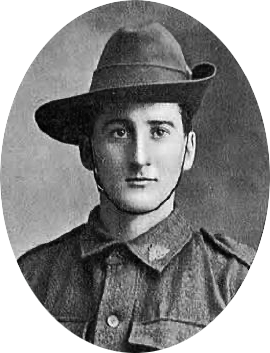 click to enlarge
Courtesy of
National Library of Australia.
Record of war service
of bank and staff 1914-1919
National Bank of Australasia Limited.
http://nla.gov.au/nla.aus-vn4759636

KIA
John had already served in the Senior Cadets when he enlisted in the AIF, 6th Battalion in 1914, at the age of 19. Less than a month later he was discharged - medically unfit.
John gave his address as Bacchus Marsh, VIC and was working as a Clerk with the National Bank, Smeaton(1), when he enlisted in the AIF, again, on the 27th of June 1916, this time with the 60th Battalion, 8th Reinforcements - age 21. He embarked aboard the HMAT A7 Medic in December.
He arrived at Plymouth, England, in February 1917 and spent two weeks in hospital with mumps. In August he joined the 60th Battalion in the field and was immediately involved in the Third Battle of Ypres. On the 26th of September 1917, at the start of the Battle of Polygon Wood, John was killed instantly by a a shell as he sat in a trench at Clapham Junction, Polygon Wood.
... was in my platoon .....was killed instantly on the morning of 26.9.17 while sitting in the trench at Clapham Junction, Polygon Wood Sector. I buried him myself in the afternoon fairly decently and put over his grave a stick with a roll of cardboard in the cleft bearing his particulars...

Source: Red Cross Wounded & Missing - Sergeant Elms
At some point he was exhumed an reburied at Tyne Cot Cemetery, Belgium.
He is listed on the Shire of Bacchus Marsh Roll of Honour, the Bacchus Marsh & District Roll of Honour, the Roll of Honour for the Coimadai State School and the St. Andrew's Presbyterian Church, Honour Roll. He is also remembered in the Coimadai Avenue of Honour.
Notes
Location of Tree Number N041
Tree Position (accuracy ±1 tree) -37.67814640954646, 144.45316108169928
Learn how find this tree in Google Maps and get directions

Copy the latitude and longitude located just below the map.

There is now a button to copy the coordinates to the clipboard!
Open Google Maps.
Locate yourself on the map - not required on a moblie device.

There is a search box in the top left corner.

Paste the latitude and longitude into the search box press return.

Press the directions button.

Related Links
Last updated by lee, Tue, 27 Apr 2021 14:53:51