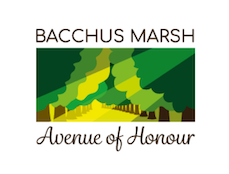 Private Thomas O′Leary


DOW
Thomas was born at Lauriston, VIC (near Kyneton) in 1892 to Timothy O'Leary and Mary Ann Woods. Thomas had a brother, James, who is also remembered in the Avenue.
Thomas was a labourer and gave his address as Bacchus Marsh, VIC when he enlisted in the AIF, 7th Battalion on the 24th of August 1914 aged 21 years and seven months - only a few weeks after was was declared. He embarked aboard the HMAT A20 Hororata in October and disembarked in Egypt in early December.
.
During the landing at Gallipoli on the 25th of April 1915 Thomas suffered a gunshot wound to the chest and died(1) later that day. He was buried at sea.
He is listed on the Shire of Bacchus Marsh Roll of Honour, the Bacchus Marsh & District Roll of Honour and the Kyneton Honour Roll. He is also remembered at the St. Bernard's Catholic Church Memorial Window and the Lone Pine Memorial, Turkey.
Notes
Location of Tree Number S202
Tree Position (accuracy ±1 tree) -37.68760227744423, 144.46673366342057
Learn how find this tree in Google Maps and get directions

Copy the latitude and longitude located just below the map.

There is now a button to copy the coordinates to the clipboard!
Open Google Maps.
Locate yourself on the map - not required on a moblie device.

There is a search box in the top left corner.

Paste the latitude and longitude into the search box press return.

Press the directions button.

Related Links
Last updated by lee, Thu, 13 May 2021 15:39:00