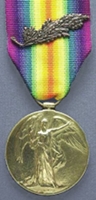 Example of a Victory Medal 1914-18 with Mention in Despatches (British) oakleaf spray
Michael was born in St Peters, Cheltenham, Gloucestershire, England in 1879. He was a sailor by trade when he enlisted at Geelong, VIC in the AIF, 2nd Reinforcements, 14th Battalion on the 22nd of December 1914, aged 35. Michael had previously served for ten years with the 1st Gloucestershire Engineers (Volunteers). He embarked aboard the HMAT A46 Clan McGillivray in February 1915, disembarking in Egypt some time later.
Michael landed at Gallipoli on the 25th of April 1915. He was out of action for two weeks in June with influenza and promoted to Corporal in August and to temporary Sergeant, Cook, in September when he was again out of action for two weeks - dysentery. His rank of Sergeant was confirmed in November before returning to Egypt in January 1916. Michael received a Mention in Despatches and was awarded the Distinguished Conduct Medal for his actions at Gallipoli.
...for construction of trenches and tunnels on Durrant's Post....
Has served continuously from landing to re-embarkation. In the period under review he was chiefly responsible for the excellent and efficient execution of the engineering works, comprising improvement of trenches, tunnels and Communications, in the northern portion of the lower Cheshire Ridge. He was indefatigable in prosecuting these works by night and day and achieved most excellent results.

Source: Recommendation for Mention in Despatches
In June 1916 Michael was in France. He faced a court martial in July, charged with ...used language likely to make a soldier commit assault and found Not Guilty. This was during the Battle of Pozieres, of which the 14th Battalion participated. He was admitted to the 12th General Hospital, Rouen, France in October, again with influenza. In November he was again in hospital, this time for several weeks - cause unknown. Michael was detached for duty as an instructor, cook, with the 5th Army in March 1917, for three months.
In March 1918 he was admitted to the 4th Field Ambulance suffering from pneumonia and was invalided back to England and and admitted to the County of Middlesex War Hospital. After being transferred to the 3rd Auxiliary Hospital, Dartford he was discharged to two weeks furlough in April and classified B1A3 - temporarily unfit for general service for less than six months, but fit for training. In June he was placed on the supernumerary list - in France. Later that month he faced a court martial for being AWL for almost two weeks - he pleaded guilty and forfeited a total of 27 days pay. In September he rejoined his unit in the field.
Michael was granted two weeks leave in London in January 1919 and was discharged from the AIF, in England, shortly thereafter. He returned to Australia and then returned to England again in the early 1920's. It is unknown if he again returned to Australia.
He is listed on the Bacchus Marsh & District Roll of Honour.
Notes
Tree Position (accuracy ±1 tree) -37.687263815712086, 144.4656240244316