Unit:
Australian Mounted Divisional Train
Colin was born at Coimadai, VIC on the 2nd of February 1894 to John Neil McVicar Todd and Mary Meikle(1). Colin had two cousins, Colin and William Todd, who are also remembered in the Avenue as is Robert Kerr who married Colin's sister Margaret.

click to enlarge
Colin Todd, standing on far right
Egypt 1914, 4
th
Light Horse
Courtesy Colin Todd, son.
Colin was a farmer at Bacchus Marsh, VIC when he enlisted in the AIF, 4th Light Horse Regiment, C Squadron on the the 19th of August 1914, aged 20. He embarked aboard the HMAT A18 Wiltshire in October, disembarking in Egypt in December.(4)
The light horse were considered unsuitable for the initial operations at Gallipoli, but were subsequently deployed without their horses to reinforce the infantry. The 4th Light Horse Regiment landed on 22 and 24 May and its squadrons were initially scattered to reinforce the infantry battalions already ashore.

Source: AWM
In June, Colin shared a 10/- prize with William McKenzie for the best dug-out in the regiment(5). He had a narrow squeak in July when the water can he was holding was hit by shrapnel(6). Colin was admitted to hospital in mid September with colitis, causing severe diarrhoea and evacuated to Malta and admitted to St. David's Hospital. In November he returned to Egypt - permanently unfit - and rejoined his unit in February 1916. In late February he was admitted to the 4th Auxiliary Hospital - mumps - rejoining his unit in March.
In June 1917 Colin was detached for duty with the 4th Light Horse brigade Headquarters for two months before he was transferred to the 35th Company, Australian Army Service Corps, Australian Mounted Division Train as a Driver. Shortly after he was confined to barracks for four days for ...failed to keep his tent in a clean and proper order.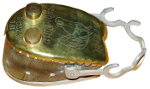 click to enlarge
Inkwell made from horse's hoof
by Colin before he was discharged
Courtesy of son,
Colin
Colin was detached for duty with the ANZAC Mounted Division Train in July 1918 and not long afterwards spent a month in hospital with a fever of some sort. Around this time he had a lucky escape(6) - he was standing just behind a soldier who received seven shrapnel wounds - severe. In September he was attached for duty with Headquarters Company before embarking from Alexandria, Egypt aboard the Port Darwin in November, returning to Australia in late December and was discharged from the AIF in February 1919.
Colin enlisted in the Australian Army in June 1942 and was discharged in October 1945 as a Sergeant in the 20th Battalion, Volunteer Defence Corps.
Colin McKellar Todd died at Bacchus Marsh in 1984, aged 90.
He is listed on the Shire of Bacchus Marsh Roll of Honour, the Bacchus Marsh & District Roll of Honour and the Roll of Honour for pupils of Parwan State School. He is also remembered in the Coimadai Avenue of Honour.
Notes
Tree Position (accuracy ±1 tree) -37.688192446643676, 144.47252290241758