Corporal William Robert Morton MSM
Unit:
13th Light Horse Regiment
Planted by:
Mrs James Morton
(Mother)

See Notes (
1
)
William was born in Bacchus Marsh, VIC in 1894 to James Morton and Mary Lidgett.
William was a farmer in the Pentland Hills, near Bacchus Marsh, when he enlisted in the AIF, 4th Light Horse Regiment, C Squadron on the 19th of August 1914, aged 20 - only two weeks after war was declared. He had previously served in the 66th infantry and with the 29th Light Horse Regiment at Bacchus Marsh - he would have served under Packington Vallence, who is also remembered in the Avenue. William embarked aboard the HMAT A18 Wiltshire in October - he had an operation for appendicitis while on board - and disembarked in Egypt in December.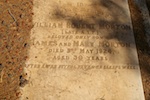 click to enlarge
Headstone for William Morton.
Courtesy of
Carol & George Judkins
.
The light horse were considered unsuitable for the initial operations at Gallipoli, but were subsequently deployed without their horses to reinforce the infantry. The 4th Light Horse Regiment landed on 22 and 24 May and its squadrons were initially scattered to reinforce the infantry battalions already ashore. The regiment was not reunited until 11 June.

Source: AWM
In August, William was wounded in action.
… he and another chap were sitting back to back, when a shell hit them. The other chap was blown to bits, and Morton's face was badly cut about ...

Source: The Bacchus Marsh Express 11 Mar 1916
William was invalided back to England and admitted to the 3rd General Hospital, Wandsworth. He returned to Egypt for duty in December and rejoined his unit in early January 1916. He was admitted to hospital for six weeks, suffering from a hernia, before embarking for France in June.
After arriving in France, William transferred to the 13th Light Horse Regiment, as part of the 1st ANZAC Mounted Troops. In late march 1917 William was attached to the Assistant Provost Marshal for two weeks. He was granted two weeks leave in September and a short while afterwards his conduct would see him later awarded the Meritorious Service Medal
For gallant conduct and devotion to duty in the field.
During the operations East of Ypres in October - November 1917 this NCO was in charge of 10 troopers engaged on road patrol duty. Although the area was continuously shelled by the enemy the party under his control remained constantly on the posts. Corporal Morton displayed great coolness and devotion to duty by his constant supervision, example and instruction to his men under very trying conditions. His conduct during 3 years service in the field has been of the highest order.

Source: Recommendation for the Meritorious Service Medal
In late Novermber 1917 William was admitted to hospital in France for nine days, suffering from scabies. William was again wounded in action in September 1918 - bullet wound to the chest and thigh - and invalided back to England and admitted to the Beaufort War Hospital, Bristol two weeks later. In December he was granted 75 days 1914 special leave. William embarked from England in late April 1919 aboard the Runic, returning to Australia in June and was discharged from the AIF later that same month.
William Morton died at Bacchus Marsh, VIC in 1924, aged 30 and is buried in Maddingley Cemetery.
He is listed on the Shire of Bacchus Marsh Roll of Honour and the Bacchus Marsh & District Roll of Honour. He is also remembered in the Myrniong Avenue of Honour.
Notes
Location of Tree Number S170
Tree Position (accuracy ±1 tree) -37.686054752340524, 144.46375127856385
Learn how find this tree in Google Maps and get directions

Copy the latitude and longitude located just below the map.

There is now a button to copy the coordinates to the clipboard!
Open Google Maps.
Locate yourself on the map - not required on a moblie device.

There is a search box in the top left corner.

Paste the latitude and longitude into the search box press return.

Press the directions button.

Related Links
Last updated by lee, Sun, 29 Aug 2021 12:15:38