Hon. Captain Rupert Theo Vance Moon VC
Rupert was born in Bacchus Marsh, VIC on the 14th of August 1892 to Arthur Moon and Helen Dunning. Rupert had a brother, Arthur, who is also remembered in the Avenue.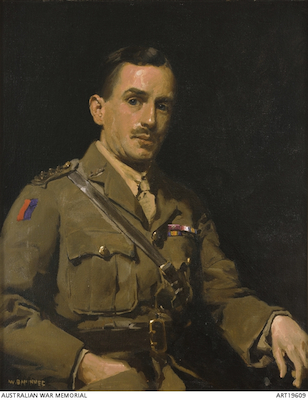 Oil painting by W B McInnes, 1925
courtesy of the
Australian War Memorial
Rupert was a bank clerk with the National Bank in Maffra, VIC when he enlisted in the AIF, 4th Light Horse Regiment, A Squadron, as a Trumpeter, on the 21st of August 1914 - just weeks after war was declared - aged 22. He embarked aboard the HMAT A18 Wiltshire in October, disembarking in Egypt in December.
The light horse were considered unsuitable for the initial operations at Gallipoli, but were subsequently deployed without their horses to reinforce the infantry. The 4th Light Horse Regiment landed on 22 and 24 May and its squadrons were initially scattered to reinforce the infantry battalions already ashore.

Source: AWM
Rupert was promoted to Lance Corporal in November and returned to Egypt with his unit in December. In January 1916 he transferred to Regimental Headquarters as an Acting Sergeant, trumpeter and further promoted to Sergeant in March. He embarked for France in June.
Three weeks after disembarking at Marseilles, France Rupert transferred to the 2nd ANZAC Mounted Regiment but two months later transferred to the 58th Battalion as a 2nd Lieutenant. He was granted two weeks leave in England in January 1917 before attending a School of Instruction for a month and then promoted to Lieutenant. On the 12th of May 1917, during the Second Battle of Bullecourt Rupert was wounded four times while leading his men against an enemy strong point. For his actions this day he was awarded the Victoria Cross.
...Lieut. MOON was hit in the face when advancing to his first objective, which, after a sharp bomb fight, he captured...
...Leading his men, he engaged in the attack on the trench which the enemy held in force. Here he received another wound in the shoulder which spun him around and dazed him for a while. His men wavered and hesitated, but lieut. MOON again rushed forward calling to his men Come on, you'll not see me left, boys. His men rushed after him, and the enemy broke...
...where he received a bullet through the face fracturing his jaw. Only then would he consent to retire from the fight...

Source: Recommendation for the Victoria Cross - (more)
Rupert was admitted to the 20th General Hospital, Camiers, France suffering a gunshot wound to the left foot and face - fractured jaw. Two weeks later he was admitted to the War Hospital, Heading, England and a month later to the 1st Southern General Hospital, Stourbridge, Birmingham. He embarked aboard the Corinthic in January 1918 , returning to Australia in March.
In late April 1918 Rupert resumed duty and re-embarked aboard the HMAT A14 Euripides a few days later, transferring to the Teutonic in New York, USA and finally disembarking at Liverpool at the beginning of July. After attending a School of Musketry he rejoined the 58th Battalion in the field in mid August. He attended the 4th Army School of Instruction for a month in October before being appointed a Temporary Captain in February 1919. Rupert had four weeks leave in England before he marched out from France for return to Australia - he relinquished his temporary rank at this time but was granted the rank of Honorary Captain. He embarked from England aboard the Port Lyttleton in June, returning to Australia in early August where his appointment was terminated in October.


click to enlarge
1942 enlistment photo
Rupert enlisted at Geelong in the Australian Army in 1942 - V352179 - and was discharged in 1945 from the 6th Victorian Battalion as a Captain.
Later in his life he also three further awards, the King George VI Coronation Medal, Queen Elizabeth II Coronation Medal and the Queen Elizabeth II Silver Jubilee Medal.
Rupert died in February 1986 and is buried in Mount Duneed Cemetery - show map.
He is listed on the Bacchus Marsh & District Roll of Honour. Rupert is also remembered in the Rupert Vance Moon VC Reserve and the Rupert Vance Moon VC Memorial Garden.
Notes
His substantive rank was Lieutenant. He was a Temporary Captain for two months in 1919 and when he relinquished the temporary rank was granted the rank of Honorary Captain.
Location of Tree Number S164
Tree Position (accuracy ±1 tree) -37.68564921689426, 144.46325188648794
Learn how find this tree in Google Maps and get directions

Copy the latitude and longitude located just below the map.

There is now a button to copy the coordinates to the clipboard!
Open Google Maps.
Locate yourself on the map - not required on a moblie device.

There is a search box in the top left corner.

Paste the latitude and longitude into the search box press return.

Press the directions button.

Related Links
Last updated by lee, Sun, 29 Aug 2021 12:11:50