Corporal Harry Moffatt
Unit:
5th Division Salvage Company
Harry was born at Bacchus Marsh, VIC in 1895 to William Herbert Moffatt(3) and Lily Maria Dannock. Harry had a brother, Percy and a brother-in-law, Harry Ruddick, who are also remembered in the Avenue.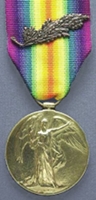 Example of a Victory Medal 1914-18 with Mention in Despatches (British) oak leaf spray
Harry was a a coach builder when he enlisted at Bacchus Marsh, VIC in the AIF on the 18th of March 1916, aged 21 - he was previously in the citizens forces, 65th Battalion at Bacchus Marsh. Harry embarked aboard the HMAT A64 Demosthenes in May, with the 5th Division Cyclist Company, and disembarked in England in July.
In September 1916 Harry transferred to the 6th Battalion and proceeded to France where he transferred to the 59th Battalion and in late November was detached for duty with the 5th Division Salvage Company - transferring to that unit in January 1917. In July he was promoted to Lance Corporal and had several periods of leave before being promoted to Temporary Corporal in November 1918.
Harry was Mentioned in Dispatches - London Gazette: 11 July 1919 Page 8830, position 14.
For consistant good work in the Field L/Cpl Moffatt has during the past two years set a fine example of discipline and leadership to his section and gained the respect and confidence of every man who has served under him. He also showed great initiative on many occasions in the Field when difficult tasks were allotted to him. L/Cpl Moffatt has at all times carried out his duties in a most efficient and able manner and is worthy of of the highest praise.

Recommendation: Mention in despatches
He embarked aboard the Baranga in September 1919, returning to Australia in late October and was discharged from the AIF in December. Harry died in July 1949, aged 54.
He is listed on the Shire of Bacchus Marsh Roll of Honour, the Bacchus Marsh & District Roll of Honour and the Holy Trinity Church Roll of Honour.
Notes
Herbert was a Carriage and Buggy builder at Bacchus Marsh
- The Bacchus Marsh Express 4 Apr 1908
Location of Tree Number N163
Tree Position (accuracy ±1 tree) -37.68555704063805, 144.4633936851395
Learn how find this tree in Google Maps and get directions

Copy the latitude and longitude located just below the map.

There is now a button to copy the coordinates to the clipboard!
Open Google Maps.
Locate yourself on the map - not required on a moblie device.

There is a search box in the top left corner.

Paste the latitude and longitude into the search box press return.

Press the directions button.

Related Links
Last updated by lee, Sun, 29 Aug 2021 12:10:22