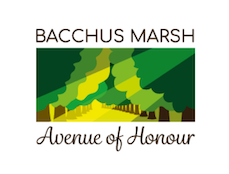 Lance Corporal Edmund (Ted) Edward Marsh
Planted by:
Thomas Anderson

See Notes (
1
)
Edmund was born in Newstead, VIC in 1871 to William Marsh and Elizabeth Barrah. Edmund served with Frederick Russell who was killed in action and is also remembered in the Avenue.
Edmund was a blacksmith and enlisted at Bacchus Marsh, VIC in the AIF on the 11th of September 1914, aged 43. He embarked aboard the HMAT A38 Ulysses in December, with the 14th Battalion, disembarking in Egypt in January 1916. He landed at Gallipoli on the 25th of April 1915 and returned to Egypt in January 1916.
In June 1916 Edmund disembarked at Marseilles, France and was appointed stretcher bearer, and then in August was promoted to Lance Corporal. For his actions in July and August, during the Battle of Pozieres, Edmund recieved a Commander in Chief's Congratulatory Card. In March 1917 he was admitted to hospital and then evacuated back to England and admitted to the 1st London General Hospital, suffering from bronchitis. Edmund embarked for home aboard the Euripides in July and was discharged from the AIF in October. He was at Gonn Crossing, north of Kerang in 1923.
Edmund died in Dandenong, VIC in 1943, aged 72.
He is listed on the Shire of Bacchus Marsh Roll of Honour, the Bacchus Marsh & District Roll of Honour and the Holy Trinity Church Roll of Honour.
Notes
Location of Tree Number S158
Tree Position (accuracy ±1 tree) -37.68522497811192, 144.46273752325214
Learn how find this tree in Google Maps and get directions

Copy the latitude and longitude located just below the map.

There is now a button to copy the coordinates to the clipboard!
Open Google Maps.
Locate yourself on the map - not required on a moblie device.

There is a search box in the top left corner.

Paste the latitude and longitude into the search box press return.

Press the directions button.

Related Links
Last updated by lee, Sun, 29 Aug 2021 12:04:07