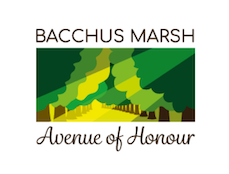 Corporal David Sylvester Lindsay
Unit:
2nd Infantry Brigade Headquarters
Planted by:
Miss Kitty Slack

David was born at Horsham, VIC in 1895 to Robert Lindsay - born in Bacchus Marsh - and Sarah Brown - born at Parwan. David had a brother, Robert, and a cousin, James Fagg(1), who are also remembered in the Avenue.
David was a bank clerk and gave his address as Horsham when he enlisted in the AIF, 11th Reinforcements, 5th Battalion on the 19th of July 1915, aged 20 - he had previously served 2 years with the Citizens Force. He embarked aboard the HMAT A71 Nestor in October, disembarking in Egypt some time later.
At the end of March 1916 David disembarked at Marseilles, France. In May he suffered a shell wound(2) to the right shoulder and was admitted to hospital - rejoining his unit in late July. He transferred to the 2nd Australian Infantry Brigade Headquarters and was promoted to Lance Corporal in May 1917 and then to Corporal in September. In February 1918 he had two weeks leave in England and then in July in Paris. In January 1919 he was promoted to Lance Sergeant - but did not retain this rank. David returned to England later in January, embarking for Australia in March aboard the City of Poona. He returned to Australia in May and was discharged from the AIF in July.
David died at Box Hill, VIC in 1964, aged 69.
He is listed on the Bacchus Marsh & District Roll of Honour and the Roll of Honour for pupils of Parwan State School.
Notes
Location of Tree Number S146
Tree Position (accuracy ±1 tree) -37.68447498365971, 144.46181839959368
Learn how find this tree in Google Maps and get directions

Copy the latitude and longitude located just below the map.

There is now a button to copy the coordinates to the clipboard!
Open Google Maps.
Locate yourself on the map - not required on a moblie device.

There is a search box in the top left corner.

Paste the latitude and longitude into the search box press return.

Press the directions button.

Related Links
Last updated by lee, Sat, 28 Aug 2021 19:04:56