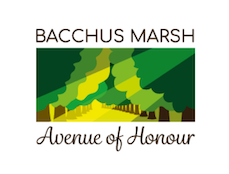 Air Mechanic David Little
Unit:
Australian Flying Corps
Planted by:
Mrs C E Powell

See Notes (
1
)

David was born at Bacchus Marsh, VIC in 1893 to David Armstrong Little(2) and Mary Ann Harrigan (or Hannigan). David had two brothers, Leo and Gerald, who are also remembered in the Avenue.
David was an Electrical Engineer in Sydney when he enlisted in the AIF, 22nd Reinforcements, Australian Flying Corps on the 8th of July 1918, aged 25 - mustered an Electrician, rank Air Mechanic 3rd Class. He embarked aboard the SS Zealandic in October, disembarking in London in December.
In February 1919 David was promoted to Air Mechanic 2nd Class. He embarked for Australia in September aboard the Port Sydney, disembarking at Melbourne in November and was discharged from the AIF two weeks later.
He is listed on the Bacchus Marsh & District Roll of Honour.
Notes
David Little was Bacchus Marsh Shire Secretary and Engineer. Also he prepared the plans for Morven homestead.
Location of Tree Number N149
Tree Position (accuracy ±1 tree) -37.68463042249824, 144.46224645627447
Learn how find this tree in Google Maps and get directions

Copy the latitude and longitude located just below the map.

There is now a button to copy the coordinates to the clipboard!
Open Google Maps.
Locate yourself on the map - not required on a moblie device.

There is a search box in the top left corner.

Paste the latitude and longitude into the search box press return.

Press the directions button.

Related Links
Last updated by lee, Sat, 28 Aug 2021 19:05:41