Fenton (known as Barney(4)) was born at Ballan, VIC in 1890 to Robert Lay and Jane Williams. Fenton had two brothers, Ronald and Norman, who also served in the War.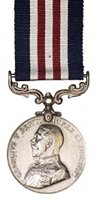 Military Medal
Fenton was a labourer when he enlisted at Bacchus Marsh in the AIF, 14th Battalion on the 12th of September 1914 - a month after war was declared - aged 23. He embarked aboard the HMAT A38 Ulysses in December, disembarking in Egypt in late January 1915.
On the 25th of April 1915 Fenton landed at ANZAC Cove, Gallipoli. A month later he was admitted to the 4th Field Ambulance, Gallipoli, suffering from diarrhoea then transferred to the 3rd Australian General Hospital, Mudros in September, discharged a month later. Next we know he arrives back in Egypt in January 1916 and in March transferred to the 46th Battalion and was promoted to Corporal.
In June 1916 Fenton arrives in France with the 46th Battalion and is soon involved in the Battle of Pozieres. At the start of September Fenton is appointed Acting Sergeant but reverts to Corporal at the end of October when he is admitted to hospital suffering from pyorrhoea - rejoining his unit three weeks later.
During the First Battle of Bullecourt, April 1917, Fenton recieved a gunshot wound(4) to his left leg and evacuated back to hospital in England and does not rejoin his unit until February 1918.
Fenton is again wounded in April 1918, during the Attacks at Dernacourt and once again evacuated back to England. He is wounded again in July.
During the Battle of Amiens his conduct earned him the Military Medal:-
For conspicuous gallantry and leadership during the advance East of Hamel (east of ??rbie) on the morning of 8th August 1918. During the advance the platoon was held up by very heavy machine gun and rifle fire from Velery Wood. He led his section forward with great dash and worked round the Wood capturing the garrison. This very fine piece of work greatly assisted the line to go forward and undoubtedly saved many casualties. The leadership and courage displayed by this NCO throughout the operation was of the highest. He inspired and was a very fine example to his men.

Source: Recommendation for the Military Medal
Fenton is wounded - gassed - for a fourth time later in August 1918 and again evacuated back to England. He is discharged from hospital to two weeks furlough in late October and at the begining of January 1919 embarks for Australia aboard the Berrima, returning to Australia in mid February and is discharged from the AIF in April.
Fenton Lay died at Heidelberg in 1961, aged 70.
He is listed on the Roll of Honour for Bacchus Marsh, held by the RSL at Bacchus Marsh.
Notes
Tree Position (accuracy ±1 tree) latitude = -37.68420589242894 longtitude = 144.4617658853531