Commander John Clement McFarlane
Unit:
HMAS Sydney
HMAS Brisbane

See Notes (
1
)
Service Medals - unknown
John was born at West Melbourne, VIC on the 20th of April 1887 to John McFarlane and Ellen Mahoney. He is the grandson of Cornelius Mahoney who had another grandson, Clive Hopkins (KIA), who is also remembered in the Avenue.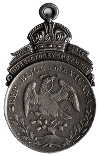 John was appointed as a Gunner in the Australian Permanent Naval Forces (PNF) on the 11th of October 1912 in London, England. He joined the newly commissioned HMAS Sydney in June 1913 and returned to Australia. At the outbreak of war he was involved in operations against German Pacific territories. In November 1914 the Sydney engaged and captured the German raider Emden near the Cocos Islands. In November 1915 he was promoted to Mate(2)(3).
In October 1917 John was transferred to the HMAS Brisbane where he was promoted to Lieutenant. In May 1919 he spent three months with the HMAS Melbourne before returning to the Brisbane where he remained until June 1921 when he transferred to Auxiliary Services.
John was promoted to Lieutenant Commander in 1925 and appointed Honorary Aide-de-camp to the Governor General for three years. In 1928 the appointment was extended for a further three years. In 1929 he was District Naval Officer for Tasmania and then, until 1931 for Queensland. Also in 1931 he was promoted to Commander and his appointment as Aide-de-camp was extended for a further three years - and again in 1934.
In 1942 John was District Naval Officer for Victoria before being transferred to the Retired List - he was removed from the Navy List in 1956.
John died at Kyneton, VIC in 1974, aged 87.
He is listed on the Bacchus Marsh & District Roll of Honour.
Notes
The Bacchus Marsh Express of 23 Oct 1915 reports that he was a Warrant Officer and torpedo instructor aboard the Sydney.
In 1918 a commemorative medallion was struck by the Navy to recognise Australia's first naval fight. The centre-piece for this medallion consisted of a Mexican silver dollar, of which some 6429 were recovered from the wreck of Emden.
Presented by Captain Glossop to the officers and men of the Sydney who were on board at the time of the engagement.
Location of Tree Number S180
Tree Position (accuracy ±1 tree) -37.68668465397092, 144.46454550239292
Learn how find this tree in Google Maps and get directions

Copy the latitude and longitude located just below the map.

There is now a button to copy the coordinates to the clipboard!
Open Google Maps.
Locate yourself on the map - not required on a moblie device.

There is a search box in the top left corner.

Paste the latitude and longitude into the search box press return.

Press the directions button.

Related Links
Last updated by lee, Sun, 29 Aug 2021 12:05:49