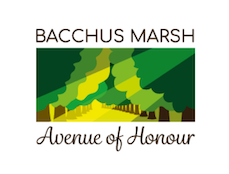 Private Alfred George Farrow

Alfred was born in England circa 1890. He was a labourer in Bacchus Marsh when he enlisted in the AIF, 7th Battalion on the 24th of August 1914 - shortly after war was declared - aged 24. He embarked aboard the HMAT A20 Hororata in October and disembarked in Egypt in December.
Alfred landed at Gallipoli on the 25th of April 1915 and suffered a gunshot wound to the knee(1) and was admitted to hospital in Malta a week later. He returned to Egypt before rejoining his unit at Gallipoli in early August. In November he was admitted to hospital on Lemnos with typhoid fever and discharged in late December suffering para-typhoid only to be hospitalised a few days later with Enteric fever.
In late January 1916 he was invalided back to Australia aboard the Suffolk and discharged from the AIF in June.
Alfred died at Ballarat in 1965, aged 73.
He is listed on the Shire of Bacchus Marsh Roll of Honour, the Bacchus Marsh & District Roll of Honour and the Bacchus Marsh Roll of Honor.
Notes
Location of Tree Number S108
Tree Position (accuracy ±1 tree) -37.681945231529845, 144.45889024558386
Learn how find this tree in Google Maps and get directions

Copy the latitude and longitude located just below the map.

There is now a button to copy the coordinates to the clipboard!
Open Google Maps.
Locate yourself on the map - not required on a moblie device.

There is a search box in the top left corner.

Paste the latitude and longitude into the search box press return.

Press the directions button.

Related Links
Last updated by lee, Sat, 28 Aug 2021 11:45:10