Unit:
II ANZAC (XXII Corps) Mounted Regiment
Planted by:
Miss Nellie Vallence
(a niece possibly)
William was born in Bacchus Marsh, VIC in 1881 to James Vallence and Margaret McGrath. William married Mary Phillips and has a brother-in-law, Thomas Phillips and a brother, Packington, who are also remembered in the Avenue.
William was a butter maker and gave his address(2) as Bacchus Marsh, VIC when he enlisted in the AIF, 4th Light Horse Regiment, C Squadron, on the 15th of September 1914 - only a month after war was declared - aged 33. He had previously served in the 9th Light Horse Regiment between 1903 and 1908. William embarked aboard the HMAT A18 Wiltshire in October, disembarking in Egypt in December and spending ten days in hospital(4) with influenza.
He landed at Gallipoli in late May 1915 and, as the light horse were considered unsuitable for the initial operations at Gallipoli, were deployed without their horses to reinforce the infantry. In August William was wounded in action - shrapnel wound to the right temple - and admitted to hospital at Mudros, Greece. He was then transferred to Malta - also diagnosed with dysentry -then England and admitted to the 3rd London General Hospital, Wandsworth in October. He returned to Egypt in May 1916 and rejoined the 4th Light Horse, D Squadron.
In June 1916 William disembarked at Marseilles, France and shortly after transferred to the II ANZAC Mounted Regiment. William was promoted to Lance Corporal in February 1917. In May he was detached for duty with the 8th Corps for two weeks. William had two weeks leave in France before being detached to the 25th Division, salvage party for a month. August saw him detached to 2nd ANZAC Headquarters, Assistant Provost Marshal for a month and later a week on prisoner escort duty.
On the 22nd of November 1917 William was detached for duty with 2nd ANZAC Headquarters, anti-aircraft section. Two days later he was part of an action that saw him awarded the Military Medal.
Medal won on 24th November, 1917, for bravery and devotion to duty. With his Hotchkiss (3) gun during heavy shelling of the enemy, a shell put his gun out of action and although partially stunned and badly shaken he refused to retire and again got his gun into action and commenced firing at enemy aeroplanes until they were driven out of range.


Source: The Ballarat Courier 24 Apr 1918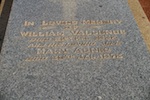 click to enlarge
Headstone for William Vallence.
Courtesy of
Carol & George Judkins
.
He returned from detachment a week later and was detached to the 2nd ANZAC Salvage Company for three weeks. William was promoted to Corporal in February 1918 and granted two weeks leave in England. A week later he was with his unit in France - now reformed into the XXII Corps Mounted Regiment - when he was again wounded in action, gassed - mustard shell - and returned to England in March.
William transferred back to the 4th Light Horse Regiment before embarking from England aboard the Suevic in November 1918, returning to Australia in January 1919 and discharged from the AIF in March - medically unfit, gassed.
At the end of September 1919 William again enlisted in the AIF, Special Service and returned to England in mid December where he was granted leave. In late January 1920 he embarked for Australia and was discharged from the AIF in March.
William died of cancer in Caufield, VIC in 1932, aged 52 and is buried at Maddingley Cemetery, Bacchus Marsh.
He is listed on the Shire of Bacchus Marsh Roll of Honour and the Bacchus Marsh & District Roll of Honour.
Notes
I do not believe he was in the 8th Light Horse Regiment. He was briefly detached to the 8th Corps (a British Army unit I think).
He enlisted in the 4th Light Horse Regiment and later became part of the II ANZAC Mounted Regiment - later reorganised to become the XXII Corps Mounted Regiment.
He was apparently in Cohuna, VIC when he enlisted
The Bacchus Marsh Express 18 Sept 1915
A variant (of the M1909) to use the .303 round was produced in Britain as the Hotchkiss Mark I and manufactured by Enfield. The British army employed three different types of machine gun: the Vickers medium machine gun, the Hotchkiss for cavalry use and the Lewis Gun with the infantry - should not be confused with the heavier Hotchkiss M1914 machine gun.
Tree Position (accuracy ±1 tree) -37.68818977038432, 144.47390662573295