Lance Corporal Roy William Edwards
Unit:
12th Field Company Engineers

See Notes (
1
)
Roy was born at Myrniong, VIC in 1888 to Thomas Edwards and Norah Richards. Roy had two brothers, Charles and William, who are also remembered in the Avenue.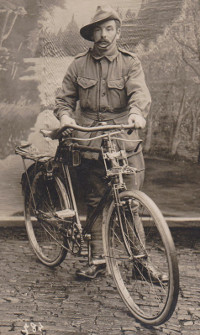 click to enlarge
Photo of Roy Edwards
Donated by Kate Cole,
grandniece of
William Clark
.
Roy was a labourer in Bacchus Marsh, VIC when he enlisted in the AIF, 13th Reinforcements, 4th Light Horse Regiment on the 28th of July 1915, aged 27. He embarked aboard the HMAT A54 Runic in January 1916. He disembarked in Egypt and transferred to the 1st Division Cyclist Battalion.
Roy disembarked at Marseilles, France at the end of March 1916. In May he transferred to the 1st ANZAC Cyclist Battalion -shortly afterwards he was detached for traffic duties for a month. Roy then transferred to the 12th Field Company Engineers in late December. He was promoted to Lance Corporal in November 1918 and returned to England in February 1919, embarking for Australia in April aboard the Commonwealth, returning to Australia in June and discharged from the AIF in August 1919.
In 1924 Roy was on a Soldier Settlement block at Red Cliffs, VIC. Roy died at Heidelberg, VIC, in 1954, aged 65.
He is listed on the Shire of Bacchus Marsh Roll of Honour, the Bacchus Marsh Roll of Honor, the Bacchus Marsh & District Roll of Honour, the Roll of Honour for pupils of Parwan State School and the Holy Trinity Church Roll of Honour.
Notes
Location of Tree Number N097
Tree Position (accuracy ±1 tree) -37.68122625660824, 144.45817844170813
Learn how find this tree in Google Maps and get directions

Copy the latitude and longitude located just below the map.

There is now a button to copy the coordinates to the clipboard!
Open Google Maps.
Locate yourself on the map - not required on a moblie device.

There is a search box in the top left corner.

Paste the latitude and longitude into the search box press return.

Press the directions button.

Related Links
Last updated by lee, Sat, 28 Aug 2021 11:41:58