DOW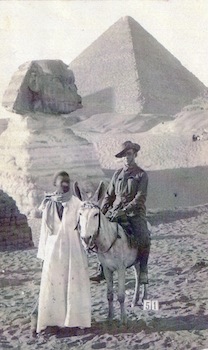 click to enlarge
Photo on a postcard sent to Uncle Tom
courtesy of Margaret Hogan
granddaughter.
Arthur was born in Bacchus Marsh, VIC, in 1896 to Arthur William Hine and Elizabeth Mary Libbis. Alfred had a half great uncle, Albert Hine(4) and a brother-in-law, Charles Jones, who are also remembered in the Avenue.
Arthur(2) William Hine lived in Bacchus Marsh, VIC and was working as a farmer with his father - at Hopetoun near Bacchus Marsh - and serving in the Citizens Forces when he enlisted in the AIF at Bacchus Marsh on the 28th of August 1914 - very soon after war was declared - aged 19. He was allotted to the 7th Battalion, E company and embarked aboard the HMAT A20 Hororata in October.
He disembarked in Egypt in December 1914 before landing at Gallipoli on the 25th of April 1915 as part of the second wave. Some time later Arthur received a gunshot wound to the head(3). He was admitted to No. 15 General Hospital, Alexandria, Egypt on the 30th of April before being transferred to the HMHS Nevasa on the 16th of May.
At 4:45am on the 22nd of May 1915 Arthur died on board ship while on route to England. At 8:10pm that evening he was buried at sea.
He is listed on the Shire of Bacchus Marsh Roll of Honour, the Bacchus Marsh & District Roll of Honour, the Bacchus Marsh Roll of Honor and also the Holy Trinity Church Roll of Honour, Bacchus Marsh.
Arthur Hine is also remembered in the Lone Pine Memorial, Turkey.
Notes
He may have used the name William as he signed his name W A Hine.
He enlisted using the name Alfred William Hine.
Tree Position (accuracy ±1 tree) -37.68288558449061, 144.46001280212087